Inside the
Summer Issue:
Writers Wanted:
Join Circle!

High School Principal
Follows Through On
Harry's Challenge

Better Place To Be
Is Scientist's Goal

Readers Help Shape
Circle! Through
Survey Feedback

Fan Fare
John McMenamin

Insider's Guide To
The Chapin Family
Weekend At Ovens Park

One Woman's
Simple Question
Yields A Harvest
of Food For The Hungry

Behind The Song:
What Made
America Famous?
What Made
America Famous?
Made Radio Program
Director Infamous

Choosing to Matter

Clipping Coupons
for Charities

DJ's Community
Activism Remembered

New Stage Production
Offers Harry Memorabilia
to Benefit WHY

WHY Visits
the Today Show
---
Click to read
the Winter 2004 Issue
Click to read
the Fall 2003 Issue
WHY Visits The Today Show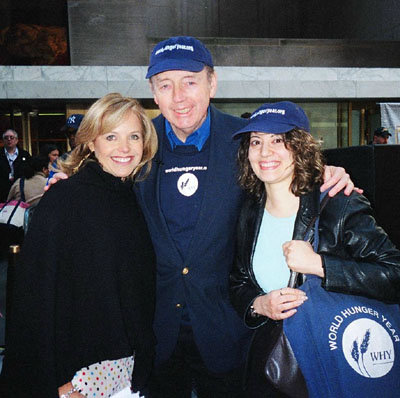 WHY's Executive Director Bill Ayres appeared on NBC's Today Show with Katie Couric and Matt Lauer on May 6 to promote the annual National Association of Letter Carriers national food drive and WHY's national hunger hotline. The Letter Carriers and the Postmaster General received a WHY-Chapin Award earlier in the week for their twelve year commitment to the cause. Pictured are Couric, Ayres, and WHY's Communications Coordinator Lisa Batitto.
Watch for the Next Issue of Circle! on September 7