Better Place To Be Is Scientist's Goal

by Bill Hornung
If life is a journey, then Brian Needelman has booked a full-fare ticket. His involvement in social activism has spanned a broad spectrum ranging from protesting the U.S. government's involvement in El Salvador's civil troubles during the late 1980s to uncovering the ecological liabilities associated with too many drainage ditches.
Needelman's evolving life story also illustrates how one person can make a difference and make a living at the same time. He's a card-carrying environmentalist, war protester and anti-hunger activist. But he also defends science and industrialized farming. Looking below the surface of many issues is an occupational habit he's developed as a soil scientist at the University of Maryland.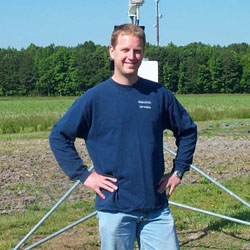 "Unlike a lot of kids who were interested in social issues during high school, Brian has stuck with his commitment throughout the years," said Sandy Chapin, one of Needelman's biggest fans. The now 34-year-old college professor was a high school classmate of Jen Chapin.
Needelman looks at the complex issues of pedology, "the study of soils as natural bodies" to better understand the ecological effects of erosion and runoff into the earth's fragile water systems. However, Needelman's more worldly experience has grounded him to practical realities that might be missed by many scientists who view the world through a series of numbers and test results.
"I was very disappointed that America wasn't the wonderful country that I thought it was supposed to be," Needelman recalls of his early college days. Disillusioned by the first Iraq war in 1992, Needelman dropped out of Wesleyan University and moved to Nicaragua to teach English to elementary school children and assist in a community farm project.
His four-month stay in Nicaragua motivated him to get his bachelor's degree in international studies that eventually took him on another seven-month adventure as an intern at the Kenya Institute of Organic Farming. Needelman again spent much of his time teaching and working as an agricultural resource. "I could read, so I could relay information to local farmers," Needelman chuckled at the extent of his early agricultural expertise.
But it was in Kenya where he saw the devastating effects of erosion and his low-burning desire in soil science began to flame up. He moved backed to the Boston area to become a farm manager and instructor for The Food Project (www.thefoodproject.org), a development program for inner city and suburban youth. "At this point in my life I was convinced I wanted to be a farmer," he said of the successful project that teaches life skills to young people through an innovative working farm that supplies produce to local anti-hunger organizations.
"After about a year my wife-to-be, Daisy Miller, pointed out to me that I was a scientist, not a farmer," Needelman mused. "I had these biochemistry textbooks that I was reading for fun.
"I had turned against science because I believed it was part of the problem. But that was part of my naiveté. Being a scientist is what I am. Deep down science is what I wanted to return to."
Needelman went back to school and received his master's in soil science from the University of Illinois. His real education often came in observing the large farming operations that surround the university.
"I spent a lot of time in the farm fields and I found them to be beautiful ecosystems. The image of a chemically drenched wasteland isn't what I found. I saw insects, life and growth."
After six years as a research assistant for the University of Illinois and the United States Department of Agriculture (USDA), Needelman earned his doctorate in soil science from Penn State. He joined the University of Maryland in 2002 as an assistant professor.
With his broad experience that's taken him across the globe, Needelman said he has the best possible job to positively impact the world. Needelman now sees firsthand how sustainable agriculture, hunger, social unrest, and literally what's found in drainage ditches, are interconnected. Studying each issue holistically is needed to discover the optimum balance to sustain people, places and things, Needelman believes.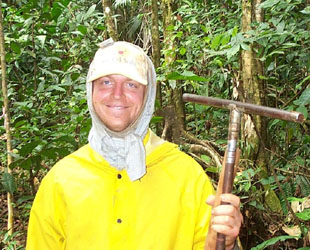 "I love soils and enjoy studying them. But I suppose we have a far greater chance of ruining the world through hatred, war and political chaos than we do through environmental catastrophe unless global warming gets us," he said.
So Needelman, a self-described "leftist," still risks arrest during rallies against the current Iraq war. He then quietly returns to his research on how drainage ditches could be managed better so nutrients that are valuable in agricultural land don't run off and damage the waterways.
His interest in both social and natural sciences isn't a surprise based on his upbringing. His mother, Lynn Needelman, is executive director of Long Island Cares, the New York food bank founded by Harry Chapin. "In many ways both my mother and I got involved at the same time. We certainly shared our experience and appreciated and supported each other though ultimately we each had a lot of independence."
Needelman's father, Bill, is a widely known scientist who has worked on, among other things, ventilation systems that greatly improve the air quality on passenger jets.
"I tend to be an optimist", Needelman said. "The U.S. has so much potential, but you go outside of the states and find out how misguided our country can be."
Education is the key, he said. "My goal is to help students think creatively and independently," he added, rather than simply relying on the opinions of others.
"As a scientist, I choose not to share my political opinions with my students. I do speak with them about such issues both in class and one-on-one, but I usually ask questions instead of give answers."
As for his Chapin connection, Needelman said he never met Harry but borrowed many lessons from his songs. A Better Place To Be is, fittingly, Needelman's favorite Chapin tune.
Watch for the Next Issue of Circle! on September 7