Insider's Guide To The Chapin Family Weekend At Ovens Park

by Hawley Botchford
The Chapin Family Weekend at Ovens Park, Nova Scotia is the ultimate paradise for Chapin music fans. Singing, storytelling and good-natured rabble-rousing are nearly nonstop during the annual event each August.
But the Chapin commotion is just a backdrop to the park's fascinating history that spans ancient Indian legends, an 1861 gold rush and famous seafaring families. Today, Ovens Park has become one of Nova Scotia's ecological treasures along the Atlantic Ocean.
The Chapin weekend runs from Friday, Aug. 13 through Sunday, Aug. 15 this year. Leading the ad hoc ensemble of the "extended" Chapin family will be Steve who plays piano beginning a 9 o'clock each night in the park restaurant known as the Hodge Podge Lodge.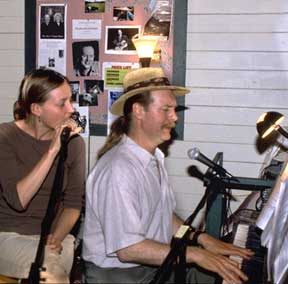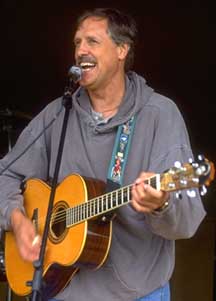 The Chapin Family Weekend at Ovens Park
Left photo: Jessica Craven and Steve Chapin. Right photo: Tom Chapin.
Photos courtesy www.ovenspark.com.
Of course, music often breaks out at all times of the day or night leading up to the official 1 p.m. concert on Sunday. The concert is free and and as of our publication date is scheduled to feature Steve, Tom, Jen and Stephan Crump, daddy Jim Chapin, Big John Wallace and many other family members and musical guests.
For Chapin fans, it doesn't get any better than Ovens Park. Not only will you hear some remarkable music, but you'll also quickly get to know everybody on a first name basis.
A remarkable weekend - rough it or pamper yourself
The beauty of Ovens Park is you can design the perfect experience for yourself. You can stay in a tent or RV in the park's campground, or reserve a room at one of the many nearby bed-and-breakfast establishments where you'll be treated like royalty. The park also has several rental cabins, but these are often reserved well in advance.
The 190-acre park offers a quiet place to relax or take a guided boat trip into the "ovens," or sea caves for which the park is named. The park is a haven for kids with playing fields, a swimming pool and a petting zoo. And golf, scuba diving, shopping and museums are just a few minutes away.
Nova Scotia is hard to beat as a vacation destination in August. The days are usually sunny and temperatures hover around the high 70s. Evenings cool down into the 50s. Americans get the added benefit of roughly a 20-percent advantage when exchanging American dollars for Canadian dollars.
How to get there
The easiest way to get to Ovens Park is to fly into Halifax, Nova Scotia and then rent a car for the scenic 90-minute drive down the Lighthouse Route to the park. Take your time and visit the wonderful town of Lunenberg, an old seacoast village that has a history as rocky as the shoreline. Over the years the Lunenberg area has been the center of Nova Scotia's booming fishing industry, home to the largest population of free blacks during the American Revolutionary War, and the birthplace of country music legend Hank Snow.
You'll also pass Peggy's Cove, another charming settlement where you can mail a letter from the town's post office located inside a lighthouse. Or stop at Mahone Bay, a town center for 100 small neighboring islands that celebrates its 250th birthday this year.
Driving from the northeastern U.S. also is an option via water ferries from Bar Harbor or Portland, Maine. Or you can take the longer route through Canada and connect to the Trans Canada Highway down to Nova Scotia. An excellent review of transportation options is available at novascotia.com.
You won't be disappointed no matter how you get there. See you in the cheap seats.
Watch for the Next Issue of Circle! on September 7