DJ's Community Activism Remembered

Editor's Note: The following story originally appeared as a Letter to the Editor of the Waterbury Republican-American in Waterbury, CT, on May 8, 2004.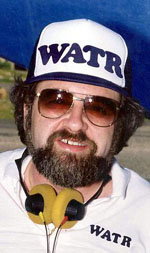 Ed Maglio, Jr.,
"The Mad Hatter"

Photo of courtesy Waterbury Republican-American.
When I heard that Ed Maglio, Jr., "The Mad Hatter," had died April 18, I couldn't help but remember all the good things he did for the people of Waterbury.
The Hatter was a real character. He'd wear a tall leather top hat, smoke a cigar, smile broadly and fill the WWCO-AM airwaves at night with his bold baritone voice.
Passing up the traditional "pop" hits that dominated "Super Music C-O" during other times of the day, the Hatter had his own tradition of playing anthem rock songs that his listeners loved.
Every Friday night at 9, he'd play "Stairway to Heaven" by Led Zeppelin. Then at 9:30, he would shift gears and play Harry Chapin's song "Circle" from the "Greatest Stories Live" album. And he'd sing along through the microphone during the audience participation parts of the song and prod his listeners to do the same. "OK, here comes the cellist Michael, and then its our turn to sing," he'd say.
As a 10-year-old who knew nothing about Harry or his music, I thought the Mad Hatter was nuts. But I kept listening.
He frequently would take his show on the road and create "theater of the mind" events that would compel his listeners to join him at live broadcasts to help worthy local or national causes.
Whether he was broadcasting from atop a giant block of ice in a crowded shopping plaza, or from the rooftop of the McDonald's restaurant on Thomaston Avenue to raise thousands of dollars to fight Muscular Dystrophy every Labor Day weekend, you just had to go and see him.
I'll never forget the day 27 years ago when the Hatter was broadcasting live from a Winnebago motor home on the Waterbury Green. He was collecting non-perishable food items to help fight local hunger.
I cleaned out my mother's cupboard, filled a big paper grocery bag with cans of food, and persuaded my Aunt Doris to drive me to see the Hatter. As I proudly presented my donation, he interviewed me live on the radio and praised my support for the cause.
Years later, when I moved to New York, I helped to organize a tribute concert to remember Harry Chapin, who was also very involved in community causes until he died in a car accident in 1981. The event was a benefit for Long Island Cares, the regional food bank Harry founded.
Remembering the example the Mad Hatter had set, I called all the local radio stations and asked them to support the event with on-air promotions and live station appearances at the park. Six local radio stations jumped at the opportunity and encouraged their listeners to bring non-perishable food items.
Thousands of listeners responded and we raised more than two tons of food. At the end of the concert Tom Chapin called me onto the stage to sing a chorus of "Circle," just like the Mad Hatter used to do with his listeners all those years ago on the radio.*
I hadn't heard anything about the Mad Hatter for about 20 years, but somehow I knew he was still back in Waterbury doing good things.
Whenever I see a local radio station doing good things in the community, I'll smile and remember the Mad Hatter's broadcast from that Winnebago in downtown Waterbury.
And whenever I sing along with the live version of Harry Chapin's "Circle," I'll remember the Mad Hatter's booming baritone voice, his larger-than-life personality, and all the good things he did to make a difference.
Mike Grayeb
Larchmont, NY
(*Click to see and hear Michael's performance in RealPlayer format.)
To view this clip, you will need the RealPlayer software on your computer. For a free download, click here.
Watch for the Next Issue of Circle! on September 7