Fan Fare

John McMenamin
by Mike Grayeb
John McMenamin remembers clearly the song that hooked him on Harry Chapin — "Corey's Coming" — and the first time he saw Harry play it in concert.
"It was during his tour for the 'On the Road to Kingdom Come' album," McMenamin said. "The whole way that song wraps you up in the story and then hits you at the very end — it was so personal and emotional that it knocked me over."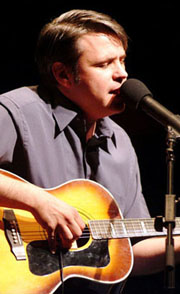 John McMenamin

photo by Mark Lamhut
He was so moved that he learned to perform that song and many other Chapin classics on his guitar during the 1970s. Then, when Harry died suddenly in 1981, McMenamin wanted to do something to honor his memory and keep his dream alive.
With the artistic expertise of his friend John Carosella and the production know-how of his friend John Horanic, McMenamin created "Remembering Harry Chapin," a benefit tribute concert.
In October of 1981, about 130 people paid $6.50 each and crammed a little theater near Pittsburgh, Pennsylvania to see the very first show. McMenamin and his friends raised about $500 for WHY (World Hunger Year), and a new tradition was born.
From the humble beginnings of that first tribute to the clubs and concert halls where he has performed the concert in the years since, McMenamin has performed "Corey's Coming" at every show.
In keeping with Harry's legacy, the concerts combine story songs with good fun and a good cause, all the while making it easy for fans to "do something" to make a difference.
Each year, the audience is treated to nearly three hours of Chapin fan favorites. To keep the show fresh, McMenamin changes the set list of songs every year and he includes audience participation songs like "Bananas" as well as some lesser known surprises that can be a challenge to learn. "We love to do 'Mercenaries,' and last year, we did 'The Mayor of Candor Lied,'" he said. "That one was a real project to put together," he added.
Among the most poignant moments at the shows each year are when McMenamin's children join him on stage. His son Tom is a crowd favorite on "Flowers are Red," and his daughter Molly performs a rousing chorus of "Circle" near the end of the show.
Each concert typically includes a raffle and Chapin memorabilia sale during the intermission, which gives the fans a chance to take home a memento and also helps substantially increase the revenue for the charities.
Since 1995, the "Remembering Harry Chapin" series has grown into an annual fan fest that has reached thousands of Chapin enthusiasts and raised more than $60,000 for national and local anti-hunger organizations including WHY, the Harry Chapin Foundation, Elijah's Promise, and several local food banks.
Over the years, McMenamin has performed in New Jersey, Pennsylvania, and Ohio to die-hard Chapin fans who have traveled from faraway places like Florida, California, Texas, Canada and even Australia.
One of the highlights of the storied history of the shows was his performance at the legendary "Stone Pony" club in Asbury Park, New Jersey (where Bruce Springsteen started and still performs today). "Jen Chapin joined us for that show and she performed her own great songs as well as 'Shooting Star' and the high part on 'Taxi,'" he said.
In 2001, the tribute took on even more special meaning as McMenamin brought together on stage three of Harry's band members: bassist Big John Wallace, drummer Howard Fields, and cellist Yvonne Cable, for the first time in nearly 20 years. Joining his own friends and fellow performers John Gebhart and Rob DeVitis, McMenamin and the group performed to a packed house on the weekend of the 20th anniversary of Harry's passing. McMenamin said it was a night he will never forget. Those who attended have said the same.

"Remembering Harry Chapin" September 21, 2003 - The Strand Theater, Lakewood, New Jersey.
Left to right: John Gebhart, Robert DeVitis, John McMenamin, Howard Fields, John Wallace, Yvonne Cable

photo by Mark Lamhut
"It really is a privilege to sing these great songs with these great people, and also be able to help the groups Harry helped to found," said McMenamin.
But his support for the cause doesn't end when they turn off the spotlights. As a professional graphic designer, he has also donated his creative services to Long Island Cares, the Harry Chapin Foundation, WHY, and this on-line newsletter, to help spread the word and inspire others to help end hunger.
"I'm not wealthy but what I do have is time and little bit of talent to help," he said.
Dozens of volunteers have followed McMenamin's example and gotten involved to help produce the concerts and make a difference in their own way. His friend Kelly Barry has helped to publicize the concerts and secure sponsorships and donations to maximize the revenue for the charities.
Michele Graziul, who has produced a couple of the shows, learned about WHY's "Kids Can Make a Difference" program and was so inspired that she initiated efforts to get her local school involved in the cause.
"It's nice to plant a seed and see it grow," McMenamin said.
Watch for the Next Issue of Circle! on September 7