Inside the
Summer Issue:
For Bruce Springsteen,
"Do Something" Means
Many Things.

The Beat of a
Different Drummer:
An Interview
with Jim Chapin

Students Use
Pocket Change
to Make a
Big Difference

Cancer Patient
Cites Harry's
Message as Key
to Survival

The Power
of Design(ers)

Harry Chapin —
Freedom of Choice

Goat Tales

The Cat's
in the Cradle...

Letter to
the Editor

LUNCH for WHY
Long Island
Songwriters Plan
"Sequel" Benefit
Tribute Concert
Satinwood,
Howard Fields and
Al Stewart in
Concert to
Benefit KIDS Can
Make a Difference

Readers Share Thoughts
in Second Annual
Circle! Survey

Circle Calendar
---
Click below
to read previous
issues of Circle!

Satinwood, Howard Fields and Al Stewart
in Concert to Benefit KIDS Can Make a Difference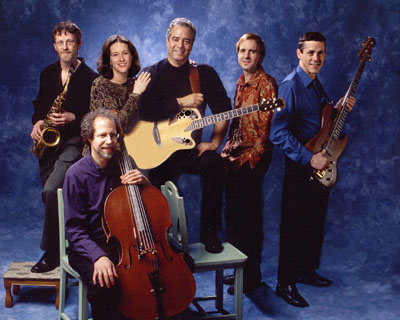 Satinwood members (left to right) Jon Weeks, Melanie Motter, Paul Motter, Joe Fitzpatrick, Rudi Weeks and Eric Roth (front).
Photo courtesy of www.satinwood.net
"Satinwood," the acoustic classic band from Connecticut that has performed a number of benefit shows for local and national organizations over the years, is teaming up with singer Al Stewart this summer for an August 20th concert.

Net proceeds from the concert will benefit KIDS Can Make a Difference, a program of WHY (World Hunger Year), that is celebrating its 11th anniversary this year.

Special guest Howard Fields (of Harry Chapin's band and The Steve Chapin Band) will join the six-member Satinwood for this show, which will feature a variety of acoustic favorites, including classic Chapin songs. Then, Al Stewart will perform some of his best-known hit songs including Time Passages and The Year of the Cat.

The concert will be held at The Renaissance Ballroom at the Venice in Westerly, RI, and tickets will be available soon at www.ticketweb.com.

Earlier in the summer, Satinwood, with special guest Howard Fields, will also be performing a July 8th "Tribute to Harry Chapin and Jim Croce" show at the Majestic Theater in West Springfield, MA. For more information, visit www.satinwood.net.

Satinwood is best known for its "Legendary Song Series," featuring authentic arrangements of timeless favorites from James Taylor, Sting, Gordon Lightfoot and the Neville Brothers.
Watch for the Next Issue of Circle! on September 7