Inside the
Summer Issue:
For Bruce Springsteen,
"Do Something" Means
Many Things.

The Beat of a
Different Drummer:
An Interview
with Jim Chapin

Students Use
Pocket Change
to Make a
Big Difference

Cancer Patient
Cites Harry's
Message as Key
to Survival

The Power
of Design(ers)

Harry Chapin —
Freedom of Choice

Goat Tales

The Cat's
in the Cradle...

Letter to
the Editor

LUNCH for WHY
Long Island
Songwriters Plan
"Sequel" Benefit
Tribute Concert
Satinwood,
Howard Fields and
Al Stewart in
Concert to
Benefit KIDS Can
Make a Difference

Readers Share Thoughts
in Second Annual
Circle! Survey

Circle Calendar
---
Click below
to read previous
issues of Circle!

For Bruce Springsteen, "Do Something" Means Many Things
by Mike Grayeb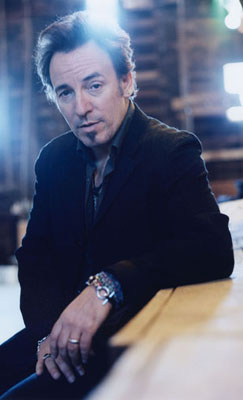 Bruce Springsteen's "Devils & Dust" benefit rehearsal concert raised more than $100,000 for WHY (World Hunger Year).
Bruce Springsteen remembers when Harry Chapin doggedly pursued him everywhere — from recording studio lobbies to hotel courtyards — to enlist his support in the fight against hunger.

He remembers the cold, wintry night in 1987 when he joined the Chapin family, Pete Seeger, Pat Benatar, The Hooters, Judy Collins and several other performers and friends at New York's historic Carnegie Hall, in a benefit concert to celebrate Harry's birthday and life.

That night, as he performed "Remember When the Music," Springsteen reflected on his pesky friend's relentless energy, his positive spirit, and his pragmatic approach to affecting social change. "Harry knew that it was going to take a lot more than just love to survive — it was going to take a strong sense of purpose, of duty, and a good clear eye on the dirty ways of the world," Springsteen said. As he closed the song, he called on the audience to "do something" to keep Harry's dream alive.

In the years since that concert, Springsteen has quietly helped WHY (World Hunger Year) and dozens of other organizations to raise millions of dollars to help people in need. Still today, nearly eighteen years after that night at Carnegie Hall, he is "doing something" — plenty, actually — to help end hunger.

Even before he kicked off the recent U.S. leg of his concert tour to support his new recording "Devils & Dust," he helped to raise more than $100,000 for WHY through its "Artists Against Hunger & Poverty" program.

That money came from the proceeds of his sold out benefit rehearsal concert in the intimate Paramount Theater in Asbury Park, NJ. During the show, Springsteen praised WHY for its work in addressing the root causes of hunger and poverty, and he encouraged audience members to lend their support. They did.

Then, before each of the 14 concert performances during his U.S. tour, he donated concert tickets to a local grassroots organization from WHY's "Reinvesting in America" (RIA) program network. The groups auctioned off the tickets for the sold-out-shows to generate local donations and awareness of their great work. (In addition to providing emergency hunger relief, the RIA organizations also help to foster self-reliance among those in need by providing education, life skills, job training, community economic development, health care, child care, housing and transportation, and other vital services.)

The non-profit organizations and cities that benefited from the tour included:
Capuchin Soup Kitchen, Detroit, MI
North Texas Food Bank, Dallas, TX
The Bridge, Phoenix, AZ
Los Angeles Regional Food Bank, Los Angeles, CA
P.A.T.H. — People Assisting the Homeless, Los Angeles, CA
People's Grocery, Oakland, CA
Food Bank of the Rockies, Denver, CO
Second Harvest Heartland, St. Paul, MN
Greater Chicago Food Depository, Chicago, IL
DC Central Kitchen, Washington, DC
Cleveland Food Bank, Cleveland, OH
Greater Philadelphia Food Bank, Philadelphia, PA
Community Food Bank of New Jersey, Hillside, NJ
The Greater Boston Food Bank, Boston, MA

Springsteen also offered the participating groups an opportunity to host an information table at the concert so they could distribute literature, collect donations, meet with potential volunteers, and generate other forms of support from concert attendees. As if right out of a story song, it was that opportunity that brought full circle one person's commitment to fighting hunger.


Bunny Mudd
Bunny Mudd, a longtime dedicated fan of "The Boss," learned about the Greater Chicago Food Depository from Springsteen himself during a 1985 concert. A few days later, she contacted the organization to offer her support as a volunteer. Mudd, now a social worker for Chicago's "Boys Hope Girls Hope", remembered how she overcame her initial concerns about whether she could make a difference at the Food Depository.

"I really believed in the organization and I'm a hard worker, so I went to meetings and I volunteered to do things," she explained. "Little by little, I got more chutzpah. You network and you grow."

At the time, the Food Depository was in its fledgling stages and it experienced many "growing pains" in the formative, challenging years that followed, according to Leah Ray, the group's cause-related marketing manager.

Mudd remained an active, dedicated volunteer through those tough times and over the 20 years since, including a two-year period as the Chair of the Food Depository's board of directors. "I've learned so much and I've met some terrific people," she noted. "It is the proudest accomplishment of my life."

When the Food Depository learned that Springsteen was enabling it to have a presence at his recent "Devils & Dust" concert in Chicago, the organization's management immediately contacted Mudd. "It was quite an honor, and quite appropriate, to offer her the opportunity to attend the concert and serve as one of our volunteers," Ray said.

Mudd said she was impressed by the generosity of the concert attendees at the recent show, many of whom said they already knew of Springsteen's support for the organization and were happy to contribute. The Food Depository raised $2,500 through an on-line auction of four tickets plus an additional $3,773.93 in donations raised through its information table at the show. During the concert, Springsteen recognized the organization's work and he dedicated a song to the volunteers.

Local groups in the other U.S. cities on the concert tour also reported raising thousands of dollars in donations as a result of his generosity.

But his support doesn't end there. He recently inspired the design of a signature collectible tee-shirt sold at Hard Rock Cafés in the United States, Europe, and Canada, a portion of the proceeds from the sales of which will be donated to WHY. Springsteen hopes the shirt sales will help raise substantial funds to fight hunger and also inspire others to "do something."

May his song be sung.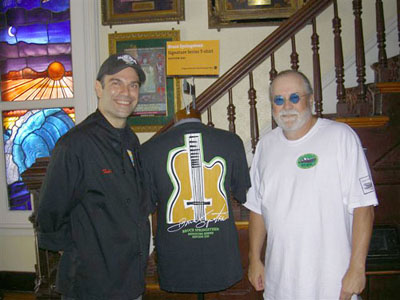 Taki Andrioti (left), operations manager for the Hard Rock Cafe in Key West, FL, greeted Ken Perrin, board member of WHY (World Hunger Year), near the cafe's display of the new Bruce Springsteen tee-shirt. ĘSome of the proceeds from the sales of the shirt will benefit WHY. Shirts are available at Hard Rock Cafes in the United States, Canada, and Europe, and on-line at www.hardrock.com.
Watch for the Next Issue of Circle! on September 7