Behind the Song:
"We Are the World"
by Mike Grayeb

"There comes a time, when we heed a certain call, when the world must come together as one."
So began "We Are the World," the benefit anthem that gave desperately-needed help and hope to millions of people -- and inspired millions more to give something back.
The song and its parent non-profit organization USA For Africa celebrate their twentieth anniversary on January 28 with the sale of a commemorative two-DVD set featuring the classic recording as well as never-before seen footage and special features. Proceeds will help fight AIDS and hunger, both in Africa and in the United States.
Ken Kragen, the entertainment and business mogul who managed Harry Chapin, Kenny Rogers, The Smothers Brothers and other major celebrities, was the creator of "We are the World" and recently reflected on how it all came together.
Just a few days before Christmas in 1984, singer-entertainer Harry Belafonte was watching NBC-TV news coverage about the African famine. Moved to action by what he'd seen -- thousands of hungry people waiting in interminably long lines for aid -- Belafonte called Kragen with the idea of a major fundraising concert.
But Kragen had another idea.
"I convinced him that a concert was not the thing to do and that Band Aid had created a template that we could use with U.S. artists to create something special here," said Kragen. (Band Aid was a British-based musicians' effort that recorded the benefit song "Do They Know it's Christmas?" in 1984 to fight international hunger.)
Belafonte was sold on the idea and Kragen immediately went to work, reaching out for Quincy Jones, one of the most successful and respected producers in the music industry, to partner with him on the project.
"By the time I went to sleep that night I had a song being written by Lionel Richie, Michael Jackson and Stevie Wonder with Kenny Rogers, Kim Carnes and Lindsey Buckingham on board for the recording," said Kragen. "Harry called me back two days later and simply couldn't believe it."
But Kragen had no time to rest on his accomplishments. He realized that January 28th would be the best date for the recording since so many of the music industry's celebrities would already be in Los Angeles that evening for the televised American Music Awards. That left just about a month to engage the support of 45 of the world's biggest pop and rock stars, find the right recording studio, establish a non-profit organization to manage the funds raised, and turn an impossible dream into a reality.
"When you don't know something is impossible you just go ahead and do it," said Kragen. "Harry Chapin always said 'When in doubt -- do something!' I learned that it is much easier to accomplish the impossible than to do the ordinary."
Kragen set a goal for himself to secure two major artists each day until he had 15 to 20. "I made call after call all day but none was more important than the one on which I convinced Bruce Springsteen's manager, Jon Landau, to get him to do it," he said. "After that, the flood gates opened and I had to turn all sorts of people down. John Denver was the hardest one -- several people felt his image would hurt the credibility of the recording as a pop/rock anthem. I didn't agree."
Meanwhile, Wonder was out of town during the songwriting process, so Richie and Jackson wrote the lyrics and the melodies and finished them less than two weeks before the legendary recording session. By that time, Kragen had secured participation commitments from Springsteen, Ray Charles, Bob Dylan, and dozens of other major performers.
"Let us realize that a change can only come
when we stand together as one."
On the evening of the recording, 50 employees from Kragen's own company pitched in to organize the event. "We had executives parking cars, serving food, manning the check in desk and so on," he said. "It was a great team effort."
And then came the performers, all of them checking their egos at the door as the sign near the entrance requested. Cyndi Lauper. Willie Nelson. Diana Ross. Paul Simon. Bette Midler. Billy Joel. Tina Turner. Kenny Loggins. Kim Carnes. Smokey Robinson. James Ingram. Hall & Oates. Steve Perry. Each performer was allowed to bring five guests, who could hang out in an adjacent room and watch and listen to the recording-in-progress on monitors.
The marathon recording session went on well into the night, and the solo parts were recorded in the early morning hours. At 5:30 a.m., Dylan sang his poignant line: "There's a choice we're making, we're saving our own lives. It's true we'll make a better day, just you and me." Moments later, Springsteen recorded his emotional solo of the song's chorus. By 7:30 a.m., exhausted, everyone went home.
But Kragen had no illusions that the event, no matter how successful, would solve the problem of hunger.
"I had always been used to working on a charity event and when it was over going on with my life. You gave the money to the charity and that was it," he said. "This time, I sat upright in bed on Friday morning, five days after the recording session, with the somewhat chilling thought that it wasn't over but was just beginning. It was the start of several years of unbelievably hard work and a wonderful sense of accomplishment."
A few weeks later, Kragen was in New York to review a forthcoming eight-page feature story and pictorial of "We Are the World" in LIFE magazine. Thrilled with what he'd seen, Kragen left the magazine's office, and was in his car when he was suddenly overwhelmed with unexpected emotions.
"I'm not an overly religious person but at that moment in time I felt Harry Chapin had crawled up inside of me," he said. "I really physically felt it happen and I said 'You son of a gun, you're directing the whole thing.'"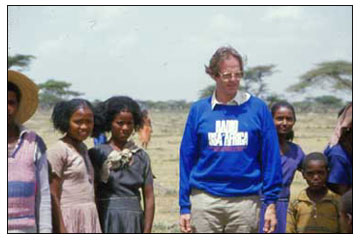 Ken Kragen in Africa. Photo courtesy of USA for Africa.
Shortly thereafter, the album and cassette containing the benefit tune that was about as long as a Harry Chapin song were released for sale. Then, on Good Friday, nearly every radio station on the globe simultaneously played "We Are the World" on their airwaves.
"We Are the World" sold 800,000 copies in its first week and raised an astounding 62 million dollars to fight hunger in Africa and the United States. Not a dime from the principal revenue raised went to administrative expenses, explained Kragen. USA for Africa used its own money and interest from the revenue in the bank to accomplish its goals, all the while managing exceptionally low overhead expenses.
Perhaps even more important than the money raised was the worldwide attention and the rekindled spirit to "do something" about hunger, he noted.
"We opened the door for the media to report on these issues, something that was impossible in Harry Chapin's lifetime," said Kragen. "We moved governments to action and we directly saved tens of thousands of lives -- maybe millions."
You can order a copy of the new four-hour, two-DVD set "We Are the World: The Story Behind the Song:," at www.usaforafrica.org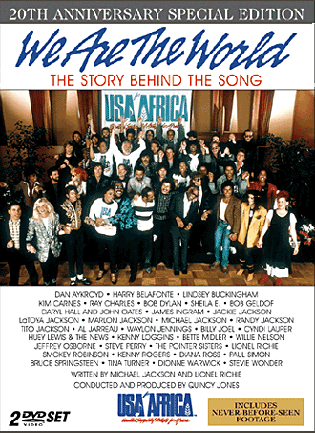 "We Are the World: The Story Behind the Song" Benefit DVD Set Will Help Keep the Dream Alive
The "We Are The World: The Story Behind the Song" two-DVD set has a suggested retail price of $19.99. Beginning in February, 2005, the DVD set will be sold on the Internet (via links found at www.usaforafrica.org), and at major retail stores such as Best Buy, Wal-Mart, and Target. Marcia Thomas, Executive Director of USA for Africa, responded to some frequently-asked questions about the project.

Who will benefit from sales of the forthcoming commemorative DVD set?
Proceeds from DVD sales will go to assist our ongoing efforts to address hunger both in Africa and here in the U.S. as well as AIDS in Africa and here at home. WHY (World Hunger Year) has received multiple grants from USA for Africa throughout the years. Though there are a number of groups that will be considered for funding, we agreed that some of our previous grantees like WHY would get funding consideration up front.

What percent of DVD proceeds will go toward the causes versus expenses/overhead?
Unlike with our efforts 20 years ago when every penny raised went to causes in Africa and the United States and nothing was used to cover expenses, we will have to spend a small percentage of the proceeds this time to cover overhead. We will keep our operations small as we have much more experience at grant making now than we did back in the mid 1980s. There was also much more money involved back then as well.

Did the "We Are The World" project inspire others to "do something"?
Yes it certainly did, starting with efforts such as Live Aid, which happened in July of 1985, six months after "We Are The World." There were also Latin performers who recorded a song to raise funds for Africa and Latin America in April 1985 and heavy metal music stars produced the single "Hear 'N Aid," the proceeds from which were distributed by USA for Africa. Then there was Farm Aid, inspired by Willie Nelson, and then Comic Relief. Paul Simon was the spark for a Mobile Health Care program targeting New York City's homeless children; Harry Belafonte became a Special Ambassador for UNICEF; Quincy Jones started his "Listen Up Foundation" and has been involved with numerous causes and major events for Africa and for here at home ever since.

How do you view hunger today in the U.S. and globally?
Just as we did back in 1985 with the famine in Africa and hunger and poverty here in the US. We discovered that hunger is more a man-made problem than nature. With the appropriate political will, economic policies and greater use of technology, food and the ability to grow, it can be provided to all that are in need. Events such as "We Are The World/USA for Africa" and Band Aid/Live Aid are more about creating awareness of what is happening and what needs to be done. Twenty years later, we can remind people and the world that we still need to take action and find a way to work together to help address such basic needs such as food so that those suffering from illnesses as AIDS will have the strength needed to fight for life.
Watch for the Next Issue of Circle! on March 7