Long Island Songwriters Go Wild About Harry

by Mike Grayeb
Was Harry's greatest legacy his ability to write and perform signature story songs that touched peoples' souls, or his commitment to end hunger and alleviate other human sufferings?
Perhaps the answer lies somewhere in the middle, and maybe that's why the Island Songwriters Showcase — a Long Island-based group of singer-songwriters that literally got its start in Harry's living room during the 1970s — recently combined the best of both legacies in a tribute concert to the group's founder.
The ISS began as a group of musical artists who gathered frequently at the Chapin home to share their songs-in-progress and gather constructive feedback from Harry and their contemporaries. To this day, the informal organization continues to meet on the first Monday of every month on Long Island, helping Long Island songwriters to improve their craft.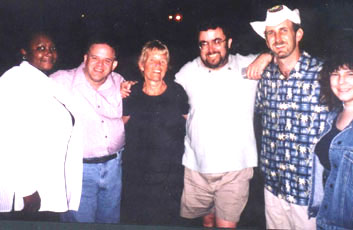 (left to right) Ramona Spooney, Frank Walker, Sandy Chapin, Jeremy Schiffres, Stuart Markus, Judith Zweiman. Photos by Mike Kaplan
On July 11th, more than a dozen professional Long Island singer-songwriters gathered to present "Just Wild About Harry," a lively concert to benefit Long Island Cares and World Hunger Year. About 350 people turned out for the outdoor concert, which raised $1,000 and more than 650 pounds of food for the non-profit organizations Harry helped to establish.
Stuart Markus, a singer-songwriter from Malverne, NY, who's been an ISS member since 1993, conceived of the tribute a couple of years ago and then set out to find an appropriate site, enlist performers, coordinate sound, team up with the beneficiaries and promote the show.
Inspired after he participated in a similar benefit tribute to Woodie Guthrie organized by a fellow ISS member a few years ago, Markus thought a Chapin tribute could bring attention to the local performing community and the cause of fighting hunger at the same time. But he also knew the road to well-meaning benefit concerts has been paved with less-than-optimal turnouts.
"Any musician who's been around for a while has done some benefits that fell on their face — where the musicians outnumber the audience," he said. "Usually it's the case of great intentions and lousy execution."
So Markus reached out for his friend Judith Zweiman to help him ensure success.
"Judith is beloved on the Long Island scene," Markus explained. "She helped me convince the performers who were skeptical that we could make it succeed. The fact that she believed in it got other people to believe in it too."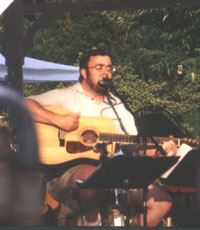 Jeremy Schiffres
Markus and Zweiman worked together to pair the most appropriate Chapin songs with each artist.
"Judith has a great gospel quality to her voice and a lot of soul," he said. "So she did 'I Wonder What Would Happen to This World.'" Zweiman, who actually attended one of Harry's songwriting workshops in the 1970s, said many of the song's lyrics were still timely today. "As I look around me there are strange things, there's muggers and there's jugglers, and we are led by clowns," she cited. "The song has significance to our current political situation."
Markus performed "W*O*L*D," which he described as a personal favorite. "It's such a great human story because it's a song about coming home again but not quite coming home and dealing with the ramifications of the choices we made years ago," he said. "It has a strong dose of bittersweet."
Other performers presented a lighter side of Harry's music.
Mike Soloway performed a hilarious rendition of "Six String Orchestra," said Markus. "One of the ironies is he's one of the most fantastic guitar players I've ever seen but he's also a very funny guy. I got to play it with him and it was all I could do not to crack up on stage."
Sonny Meadows interpreted "30,000 Pounds of Bananas" in his own bluesy-style. Meadows, who organized the Guthrie tribute a few years ago, is no stranger to social action himself. In the 1970s, Meadows learned about the ongoing institutionalization and inhumane "warehousing" of people with mental disabilities and chose to do something about it.
"When I was going to school, I decided this was a population that really needed to be helped," he said. "I felt the need to change the world, and over time, we got the 20 or 30 of these institutions closed and we got these people working and living in the communities."
Meadows said there is an opportunity now to make a similar change in the way society deals with hungry people. "If we can do something as massive as turning the culture around to help people in need who are not pariahs of society, the same thing can be done about hunger," he added. "The general perception is these people are not contributing, but if they were fed and helped with basic needs, they could be productive and make a positive contribution."
Meadows, a longtime supporter of World Hunger Year, knows that a big part of the challenge is motivating people to action. He recently recorded a cover of Jen Chapin's song "Passive People" on his own new CD called "How Does a Patriot Act?"
"We need to shine some light on peace, justice and hunger and all the themes we should be focusing on in this country," he noted.
Another theme — fostering creativity in school children — shined through in a stirring performance of "Flowers are Red" by Spoonwalk, a duo featuring Ramona Spooney and Chapin fan Frank Walker.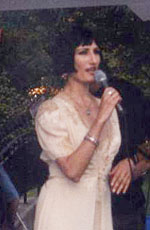 Thera Marshall of Folk Fiction sings Shooting Star
One of the most poignant moments of the evening came when the band Folk Fiction sang "Shooting Star," featuring lead singer Thera Marshall. She sang the song in tribute to her late husband, who, after a long battle with depression, took his own life last December.
"That song is like the story of her life," said Markus. "When it came to the line 'he took off east one morning, toward the rising sun's red glow,' I knew the song would have that much more personal meaning for her."
Markus remembered his concern as he approached Marshall with the idea of her performing the song. Would the lyrics hit too close to home?
"She emailed me that she started crying while listening to it in the car and that she almost had to pull over," he said. "She couldn't wait to start rehearsing it, and it was very moving for me as well." Markus said he believed Folk Fiction has since added the song to their performing repertoire.
Another song that had special meaning for its performer that evening was "Cat's in the Cradle," sung by Ken Forgione. "When Kenny was a kid, his father died choking on some food," said Markus. "So that song has always resonated really well with him. He appreciated what it was like not to have had a dad for so many years, and in raising his own kids, he always tried hard to make sure he was always there."
Other performers took Chapin classics "The Rock," "Taxi," "Story of a Life," and "Dancing Boy," and made them their own, noted Markus. His childhood friend Jeremy Schiffres, now a newspaper editor in Kingston, NY, taught Markus about Harry's music and his social activism. Schiffres performed "A Better Place to Be"at the event.
Schriffres said both Harry's music and his activism was inspiring. "He has had such a profound effect on me as both a human being and a songwriter," he said. "The concert gave me the opportunity to share my love of Harry's music, to enjoy wonderful performances by other musicians, to do a favor for one my oldest and dearest friends and, perhaps most importantly, to carry on Harry's legacy of helping those who are less fortunate than me."
Zweiman agreed. "Harry really devoted himself to the community and that's really rare," she said. "That's what songwriters should do."
Markus said he hopes to build on the success of the event in the future, including a possible bigger event to remember Harry on the 25th anniversary of his passing in 2006.
"No one can do it by themselves," said Markus of organizing such a big event. "But if one person can rally others around to do their part, then it branches out until you've really got something going."
Watch for the Next Issue of Circle! on December 7